2023 Member Events
Member Events are exclusive for Raspberry Falls Members only. Please check back for more details pertaining to each event. For more information, please contact Willy Lutz, PGA at wlutz@raspberryfalls.com or call the golf shop at 703-779-2555.
GOLF TOURNAMENTS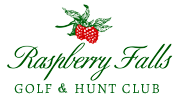 May-August Match Play Championship

2023_Match_Play_Championship.pdf
June 3rd-June 4th Stroke Play Championship

2023_Raspberry_Falls_Stroke_Play_Championship
June 9th 1PM Shotgun Single Day Member/Guest Tournament

2023_Raspberry_Falls_MG
July 4th Tee Times Red, White, and Blue Tournament

2023 Red, White and Blue Tournament
Raspberry Ryder Cup
July 15th 1PM (@ Bull Run)
July 16th 1PM (@ Raspberry Falls)

Raspberry Ryder Cup
October 26th Glowball Mini Tournament (after final Sand & Suds social event)
October 28th Greenskeepers Revenge Tournament
NEW 9-Hole Member Days prior to Sand & Suds-See below for dates
SOCIAL EVENTS
April 20th 6:00PM-8:00PM VSGA Handicap and Rules Seminar
April 22nd: 10AM-4PM Next Round Club Trade-In Event
May 25th 6:30PM Sand & Suds (9-hole golf prior at 4:00PM)
July 13th 6:30PM Sand & Suds (9-hole golf prior at 4:00PM)
August 31st 6:00PM Sand & Suds (9-hole golf prior at 3:30PM)
October 26th 5:00PM Sand & Suds (9-how golf prior at 2:30PM)
January 5th 2024 Champions Dinner
NEW MEMBERS ONLY LOGO AND SHIRT
We are very excited to announce a new Raspberry Falls logo that is to be exclusively worn by our Members! The logo will first appear on a REP18 branded golf shirt. The shirt is now available for a special presale price of $72.25, with deliveries expected by September 2023. You can place your order by clicking the button below.